Family Studio Photography is a kind of photography that captures the affection, emotions, and bonding among the members of a family. It also captures the memorable moments, and one can revisit them. The next generation can learn about the culture of their grandparents by looking at the album of old photos of their grandparent's family and also take people back to the beautiful moments that they had lived in the past with their loved ones.
Family studio photography is the best option for capturing beautiful and memorable moments among family members in a controlled environment. The proper lighting enables one to take desirable photos.
Ideas to take desirable photos
There are many studio photography ideas to take desirable photos of family members. These ideas will also improve your photography. For some people, photography is a craze. They want to capture their every beautiful moment to make them memorable. So, in this article, we provide you with unique ideas to capture your moments memorably.
Shoot energetically
For shooting family photos, try to make an understanding with your client so that you can capture the images that will give an authentic look. You have to work energetically and incorporate yourself to capture desirable photos.
Looking at each other
When you are shooting family photos, take some shots in which family members are looking at each other instead of the camera. This idea is a very effective and exciting way to shoot a private, love, and bonding among family members. Such photos also take people back to the moments when they saw each other after a long time and make them smile.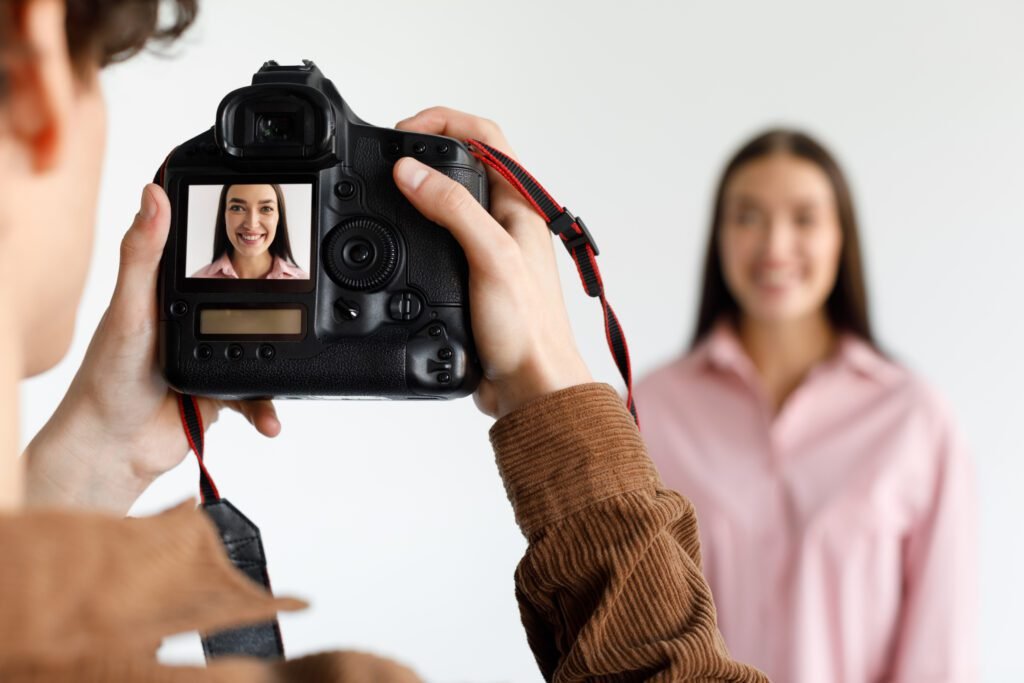 Take Simple Shoots
Simplicity is the best. Some families like to shoot simply in a natural way. Therefore, for such photo shoots, ensure that family members wear simple and non-distracting clothes so they can pose in a simple way that shows love and affection among them.
Formal sitting
The photography with formal sitting will give a traditional or cultural look that inspires the next generation. For such photography, try to match clothes with the background and avoid wearing jewelry or any other pope, as such things distract attention from the faces.
To achieve a matching look, boys should wear the dresses and accessories a man of the family is wearing. Similarly, girls should wear dresses and accessories that women of the family wear. This gives an aesthetic look.
Focus on every family member.
While shooting a family photo, focus on the personality of every family member. Otherwise, shoot the photos of every family member separately; this will help you make an album with great photos. You can also add details about every photo on the page of your photo book.
Use your pet animal.
Pet lovers also consider their pets as family members, and it is also the best option to shoot a family photo with your loving pets. This pet may be a dog or a cute and beautiful cat. So must ensure to shoot with your lovely pet. You can shoot photos while playing with your pet for aesthetic and natural-looking photos.
Introducing the newborn family member
You can also shoot in a studio to introduce the newborn baby of your family and can make that moment beautiful and memorable. You can choose the studio's background with baby-related objects for such purposes. Other siblings should hold the newborn baby with a beautiful smile for a better pose. You can also use any toy or teddy bear as a prop object that shoots your photo according to your desires.
Wearing sport uniform
If you have a sports background or your family is interested in any game, you can shoot in a studio by wearing a specifically designed sports uniform. You can also use the game object as a prop for such photography. This photograph also has a funny and friendly look among family members. It also shows your love for related sports.
Use of light and smoky effect
In a studio, lights are in control, so while you are shooting in a studio, you can control the lights according to your desire. You can use the smoky effect in your family photos to make them look like a filmy or cinematic Image, meaning it will look like a film image.
Focus on frame
Focus on the frame of your photo is a basic need in any photography. Use some composition rules to make funny, engaging, and creative looks. For example, a child looks at her parents sitting on the mother and father; in this situation, the child is the main subject.
Sitting and standing
Shooting a large family in a single position of all family members is difficult as no perfect frame is formed, so to solve this problem, use the idea of sitting and standing. According to this idea, some family members, such as grandparents and parents, are sitting while other family members, such as children, uncles, and aunts, are standing in front and behind the parents.
Shot a couple photos of the family
Sometimes, when you have to shoot a large family, to manage them in frame with creative style is to arrange them in couples such as grandparents and parents with their children. This idea is efficient and helpful in shooting a large family.
Walking towards camera
For a creative and desirable, the best option is walking family members towards the camera, which gives an aesthetic look in photos.
Using a toy as a prop
While you are shooting, some children can also use beautiful toys as a prop, and the parents are sitting near their children and looking at them with love to their children. This is the best option for capturing small family photography.
Conclusion
Family photography is a beautiful tradition to capture memorable moments of lives with their young ones. It is a source of joy and entertainment among family members.
As a photographer, family photography is the best way to learn about your skills by their appreciation.
You can use the ideas of this article to make your family photography more memorable and creative.