Photography is an art; most of us have a craze for photography, while some also choose photography as a profession. Professional photographers like to shoot in a studio. A studio is an area where all factors that affect photography are controlled, such as light, backgrounds, etc. Some people become scared to shoot in a studio and think that it is difficult to shoot in a studio, but in reality, it is very easy and simple to shoot in a studio. Some professionals and passionate photographers like and become excited to shoot in a studio.
Many of us want to shoot in a studio, but we have a fear of shooting in the studio. In the beginning, you thought it would be difficult, but over time, your passion for photography overcame your fear, and it became amusing and easy to shoot in a studio.
Shooting in a studio is your best decision if you shoot in a good way. It is comforting, encouraging, and economically friendly.
Here are some benefits to rent a studio
Advantages of renting a studio
➢ Every passionate and professional photographer has a desire to take or shoot clear and creative images. To fulfill this desire, a studio is the best location. As in a studio, a controlled environment is provided, which means light can be controlled according to your need for taking a desired image.
➢ Purchasing all the required materials for taking or shooting desired images is expensive work, whereas renting a photography studio that is already designed with all required materials is the best and most economically friendly decision.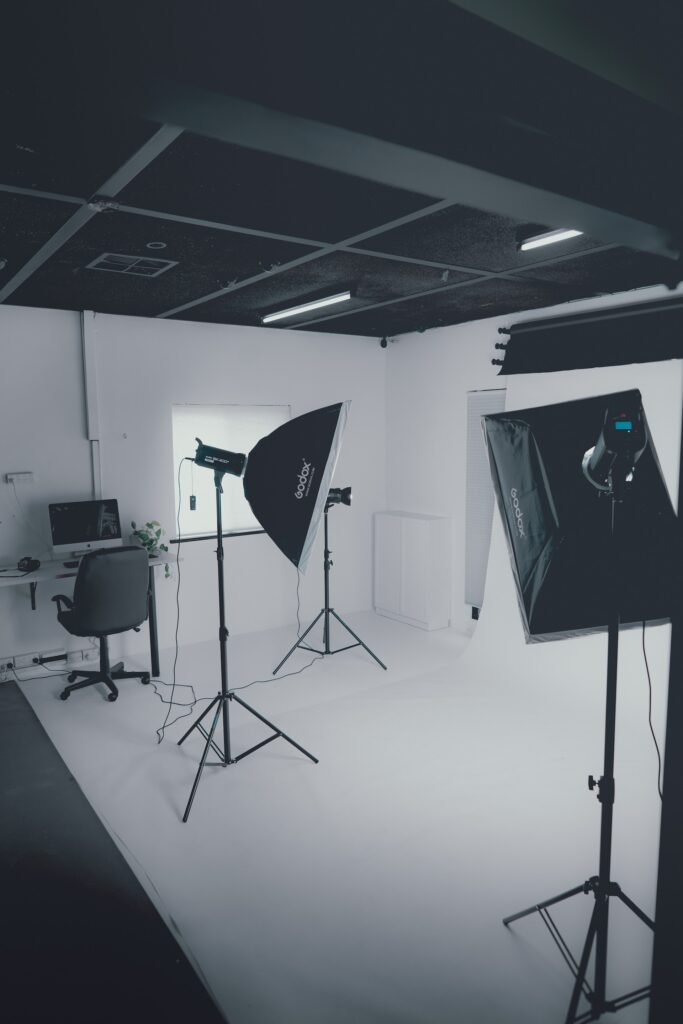 ➢ Some other advantages of renting a studio are given below:
Well designed space
Photography studios are well-designed spaces where you are provided with a controlled environment and enable you to shoot clear and creative images. Thus, studios make professional photography easy in a controlled way.
High-Quality images
For professionals and passionate photographers to shoot high-quality images, renting a studio is the best option. Studios provide a distraction-free space for photography so professional photographers can shoot high-quality images for their customers and partners.
Required materials and tools
Photography studios are well-equipped with all the materials and tools that are needed to shoot high-quality images for professionals and businesses. To buy all these required materials and tools is not a good option.
Secure Projects
studio provide a secure and well maintained space for your projects. You can do professional projects like woocommerce photoshoot and other professional photography in secure way.
Venue for hosting
Studios also provide a manageable site for business meetings, presentations, and auditions. Improve the customer's meeting experience by giving professional sites for meetings.
Distraction-free site
Photography studios are distraction-free sites for shooting or photography. Therefore, it enables professional and passionate photographers to capture creative, clear, and fully focused images.
Guidelines for rent a studio
Renting a studio is a good option, but it takes work. It is very important to find the best studio where you can shoot your desired high-quality images.
Following are some guidelines that you should follow while renting a studio.
Rent of a studio
The most important thing that you have to check while renting a studio is the rent of the studio or the cost of renting. The cost of renting has a great impact on professional photography. Some studio owners rent their studio on the basis of hours, and others on the basis of days. You should rent a studio on the basis of the time you will take to complete shoots. So, always double-check while renting a studio.
Area of studio
Photography studios are of different areas or sizes. The decision to choose the size of the studio depends on the space that you need to shoot. Remember one thing: a studio of a large size or area means a high cost of rent. Many photographer like to choose studio of large size because such studios provide ease to work in and also enables them to shoot in a creative style.
Unconcealed costs
Some photography studios are inexpensive, but they prove expensive due to unconcealed cost that is not mentioned. So when you are discussing or making a rate of the studio, ensure clear the all unconcealed costs.
Extra time
Sometimes, shooting is not completed because photographers are allocated a short time. For example, due to various situations, shooting is not bound up. Therefore, check the cost of such extra time for shooting when you are dealing with the rate of the studio. But try to avoid such extra time and complete your shooting on time.
Rates of Equipment
Mostly, the costs of equipment are included in the total rate of studios, but sometimes, these expenses are excluded from the total rate of the studio. You may also need some extra equipment for shooting, so ensure the expenses of such equipment.
Lightning
The main purpose of shooting in a photography studio is the availability of lights. Search and find out the new methods and technologies of lighting. If you are a beginner or shooting first time in a studio, then use an easy and simple way of shooting to avoid complications. Before shooting, plan for needed lightning.
Choose your model
When you have planned the right and best studio setup, now select the model for your shooting. The employment of professional models is a good idea, but it may prove to be expensive. Choose someone attractive and comfortable who will work as a friend or family.
Teamwork
In a photography studio, shooting is not a game of one man—the hard work of every member results in perfect photography. Choose a team of people with whom you feel comfortable to do work. Such teamwork will make studio photography more interesting. When you work with a team, the expenses of shooting are also divided among the members of the team.
What is a studio rental, and how does it range from different condo alternatives?
A studio apartment normally refers to renting a space designed for inventive or expert use, consisting of photography, art, track, or dance. It is distinct from other rental alternatives like flats or offices because it's far purpose-constructed for innovative endeavors.
Why ought I keep in mind renting a studio as opposed to the use of my domestic for innovative paintings?
Renting a studio gives a devoted, distraction-unfastened environment, which could raise your productivity and creativity. It additionally permits you to split your personal and professional lifestyles, keeping a piece-existence balance.
Is renting a studio price-effective for small businesses and startups?
Yes, renting a studio can be cost-effective for groups, as it eliminates the need to invest in and keep a separate area. It's a sensible choice for undertaking meetings, workshops, or product photoshoots without the overhead of a traditional workplace space.
How can renting a studio benefit musicians and bands?
Studios provide soundproof environments, a professional recording system, and a creative environment, making them perfect for musicians and bands to practice, file, and bring their tracks.
A studio apartment normally refers to renting a space designed for inventive or expert use, consisting of photography, art, track, or dance. It is distinct from other rental alternatives like flats or offices because it's far purpose-constructed for innovative endeavors.
What are the blessings of renting a studio for artists and photographers?
Studios offer managed lighting fixtures, specialized devices, and flexible backdrops, enhancing the high quality and variety of your paintings. Additionally, studio leases offer sufficient areas to test and collaborate with fashions or customers.
Conclusion:
If you pick studio photography, then renting a studio is the great choice.
Studio pictures improves your confidence as a expert photographer, and besides this, it has a lot of unique benefits that provide you with a specialised surroundings for pictures.