If you are a passionate or professional photographer and searching a best space for your photography studio within your budget, for this you can also easily transform extra space of your house or your living room into photography studio. In this article we are with a complete guide to turn a room into photography studio.
Steps to turn a room into photography studio
You can easily turn your living room into a photography studio by investing according to your budget on the appropriate equipment needed for a professional photography. Follow the following steps to turn your room into a photography studio.
Find an appropriate room for photography studio
Find the room or extra space in your house that have enough space to shoot desirable photos from best angle, it can be a spare or living room. Make sure that room have high ceiling of 10 feet and blank walls, so you can paint walls according to your need and can decorate for using them as a background of your images. In addition the size of your room or space also affects the light in your images.
If the selecting room have high ceiling of 10 feet then you can easily accommodate more clients due to large space and can easily shoots the subject from any angle with great efficiency.
Buy studio equipment
After selecting or finding the best room or space for your home photography studio, buy all the equipment that you will need in your photography like backdrops etc. If you already have all these equipment then you can skip this step, but if you not have these equipment's the buy from market which have diverse option for every equipment. The equipment that you will need in photography studio includes cameras, lights, light modifier, tripod stands, backdrops, furniture, fans and wire extensions. Some equipment such as furniture and backdrops are optional in photography studio but the other equipment are essentials to develop a photography studio in your room or space.
Set lightning
The lightning is the basic and essential component of a photography studio as lightning has great impact on the image. No photography studio is complete without lightning so choose an adequate and appropriate source of light. Make sure all the light equipment that you buy are of your need, never waste your money in light equipment that you will never use. For blocking extra light from your photography studio room use darker shade of wall paint or curtains.
Now put the light where you need or want in your home photography studio. Use flash lights to set up your photography studio. Moreover to keep white balance use neon flexible tube lights in your photography studio. For home photography studio use speed lights as these have many advantages over studio flashes. These advantages are given below:
These are perfect for your small home photography studio.
These are easy to carry anywhere and have light weight.
The best thing these speed lights are affordable within your budget.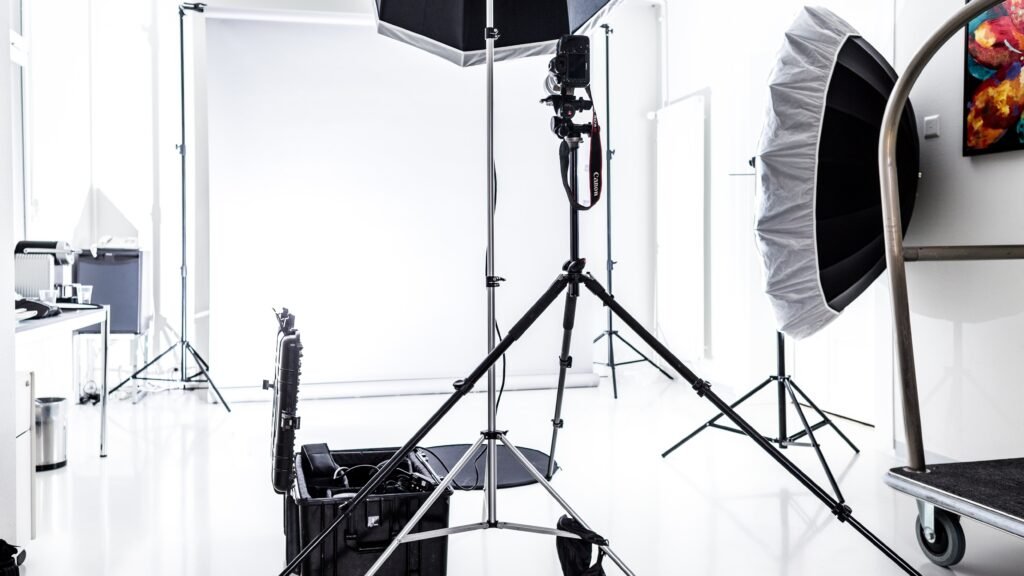 Tripod stand
Tripod stands are needed for each light to keep them stable. Don't waste your money in low quality products because they will unstable the light and ultimately will damage your image. Therefore buy sturdier tripod stand to take desirable photos.
Light modifier
For improving lights in your image you will need light modifiers. If you want a specific mood and theme in your photography then you should use light modifier. They are set up over flash light to control or change the light that is coming from camera. The most popular light modifier are given below:
Studio umbrella light set up to reflect the light towards your subject.
Soft box modifier create a soft and diffused light which essential for product photography.
Continuous lightning is need for continuous light which is best for both video and photo shooting.
Natural source of light
You should choose the room or space of your home that have best source of natural light. For this purpose choose the room or space that have window for sunlight to enters the photography studio. The natural or sunlight give your image an aesthetic beauty that make your photography like professional photography. But make sure the sunlight is not coming directly in your images, instead it is coming as a shadow. You can use reflector lights to bounce natural light in your desire direction to make your photography excellent.
Floor of your studio
As the floor of your selected room is already made but ensure that is it suitable for your photography. If you find an unsuitable floor of your room for photography studio, cover it with paper and tape according to your theme of photography studio. This will make your home photography studio like a professional photography studio.
Decoration of studio
Your photography studio will complete by decorating the walls of your studio with paper prints according to your theme of photography studio. You can also decorate your studio walls with unique paintings or with amazing backdrops. The decent and classic decoration of your photography studio also have good impact on your clients that will make them confident to shoot in your photography studio.
Choose an appropriate background
There is a diverse option to choose backgrounds of photography studio. While you are turning your living room or extra space into photography studio , try to make creative change such as in changing the backgrounds. If you not want to work with existing background walls paint color or texture then modify them according to your basic theme. For a creative background you can change the existing background by following ways:
Cover the walls and floor with a printed sheet.
For aesthetic view you can use printed paper or fabric to cover background of your studio.
You can decorate your backgrounds creatively in a number of ways such as you can use paper flowers or artificial flowers and lamps to decorate backgrounds. Just make sure the decoration of your backgrounds give an aesthetic or classic look.
Furniture for photography studio
You should also decorate your photography studio with suitable furniture like sofas and couch or comfortable chairs that may also be need for your clients to wait. Make sure the comfort of your clients to make your photography studio perfect and attractive for your clients.
Conclusion
Your room can be a perfect location for developing photography studio. The thing you just need to turn your living room into photography studio is space and light where you can take or shoot desirable photos.
You can complete your studio by using basic equipment's like camera, lightning and background etc by remaining within your budget. You should also make sure the comfort of your clients to make your studio attractive. I hope this article will be helpful in turning your living room or extra space of your home into a photography studio.